Inside Spinal Pelvic Stabilizer Testimonials
[ Back ] [ Up ] [ Next ]
Footleveler's Testimonials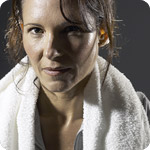 "I am writing to let you know how satisfied I am with the Spinal Pelvic Stabilizers that I ordered two weeks ago. I admit that I was quite skeptical at first because my feet are in bad shape. I urge anyone who is thinking of ordering Stabilizers to please do so. It's amazing what Stabilizers can do for a person's walking ease. I used to feel like an old woman when I walked. Now I can keep up with my significant other when we walk at the mall. Thank you for a better outlook on life."
—Carol L., patient.
"I am extremely pleased with the comfort, support, balance, durability, shock-absorption, stability and improved posture I now have as a result of using the Elite Stabilizers. The benefits of Stabilizers are not limited to high performance athletes or active individuals. Anyone who can walk (whether assisted by a cane, walker, crutches, leg cast, etc.) or unassisted, will benefit from Stabilizers! I'm sure thousands, if not millions more people would buy, use, & experience the same great results if they were somehow introduced to this fantastic product."
— Joe B., patient, Elite.™
"Foot Levelers' Spinal Pelvic Stabilizers have made my life a lot better. For years, I could not stand or walk on hard surfaces without serious pain in my legs and back. With Stabilizers, I can walk and stand on hard surfaces for a much longer period of time."
—Ted W., patient.
"My back had been a problem for years and when I couldn't walk without help, I tried chiropractic. After several adjustments, my doctor recommended Foot Levelers' Spinal Pelvic Stabilizers. At first, I though they were expensive, but it's the best thing I've ever done for myself. My doctor offered to give me all of my money back if I would give him my Stabilizers and I told him, "No way!"
— Lynn D., patient.
"When I thru-hiked the Appalachian Trail (2,135 miles) in 1990, I suffered with a lot of foot and joint pain. I used Spinal Pelvic Stabilizers on my 2003 thru-hike of the Pacific Crest Trail (2,650) miles and was absolutely pain free for the entire hike. I will be using Stabilizers on my thru-hike of the Continental Divide Trail (3,200 miles). I would not even think of starting a long distance hike without them."
— Clifford H., patient.
"High-heeled shoes used to wreak havoc on my arches and the ball of my foot. Now that I'm using 5th Avenue™ Spinal Pelvic Stabilizers, I feel much better at the end of the day. My shoes still fit perfectly because of 5th Avenue's slender design, and I don't have to waste all my favors begging my husband for a foot rub!"
— Tracey M., patient, 5th Avenue™ Stabilizers.
"I wanted to let you know how much I love my Exclusively Yours® pillow. Having had the time to sufficiently try it out, I know this is definitely the pillow for me! I prefer a firmer pillow with lots of support so this pillow is ideal. By being measured and custom-made to fit and accommodate ME, it feels and fits just like a glove. I love it!" –Tanya R., patient, Exclusively Yours®
"I have a long history of foot pain and have used other orthotics, but none have made the difference that my Spinal Pelvic Stabilizers have. I have many Shoethotics® (Olympians™ & Milanos™) and Sandalthotics®, and I love them! It is so nice to just put my shoes on and not have to think about my Stabilizers. I live in my UltraTreks® in the summertime!
—Anne H., patient.
"I wear my Olympians™ Shoethotics® whenever I am going to be on hard surfaces for an hour or more. Last summer I toured Italy wearing my Olympians, walking most of the day for 10 days. I could not have made the trip without my Shoethotics. Thanks, Foot Levelers, for allowing me to enjoy Rome, Venice, and the cities of the Veneto."
—Richard F., patient.